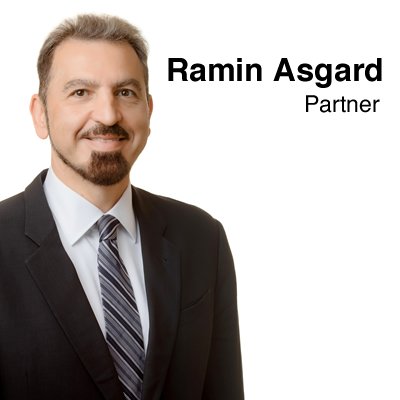 Bitman O'Brien & Morat Expands Practice Adding Immigration Law With New Partner Ramin Asgard
by: Ronnie Bitman, Managing Partner  |  March 25, 2021
ORLANDO, Fla. (March 25, 2021) — Bitman O'Brien & Morat is pleased to announce the addition of partner Ramin Asgard to the firm. Asgard joins Bitman O'Brien & Morat after over a decade of legal work in immigration and global migration and 16 years as a U.S. Foreign Service Officer with the U.S. Department of State. While at State, Asgard served as principal foreign policy advisor to two commanding Generals of U.S. Central Command, as a Principal Officer in Dubai, as a Consular Officer in Turkey and the UAE, as a Commercial Officer in Afghanistan, as a Director at Voice of America, and on the National Security Council.
"I am pleased to announce Ramin Asgard has joined our team of legal authorities," said Ronnie Bitman, Bitman O'Brien & Morat, PLLC Managing Partner. "Ramin's broad experience in areas of immigration, citizenship, national security, diplomacy, and foreign affairs makes him the ideal addition to our expanding team. His knowledge of immigration and foreign policy is a perfect complement to our existing team of commercial and civil litigators."
Asgard's legal practice focuses on US immigration law, including complex consular cases, investment, entrepreneur, executive, and highly skilled immigration, family and business matters, and extreme vetting issues. His global migration practice, which covers multiple countries, focuses on citizenship and residency by investment, entrepreneur and executive immigration, and global/digital nomad programs. He founded Visa Prep Pro, a visa interview preparation and advisory software platform, and supervised four attorneys and eight paralegals representing clients in all areas of immigration including family, business, citizenship, removal defense, and consular processing at Maney Gordon Zeller, PA.
Asgard is a member of the American Immigration Lawyers Association, the Federal Bar Association, the Council on Foreign Relations, and Phi Beta Kappa. He received his Bachelor's from Temple University, his Master of Arts in International Relations from the University of Pennsylvania, and his Juris Doctorate from the Tulane University School of Law.
Who We Are
Bitman O'Brien & Morat, PLLC provides practical, streamlined and cost-effective legal services and counseling throughout Florida. Select practice area highlights include Business Law, Real Estate and Sports & Entertainment Law. With offices in Orlando, Tampa, Fort Lauderdale and Miami, connect at www.bitman-law.com or @BitmanLawFirm on all social channels.